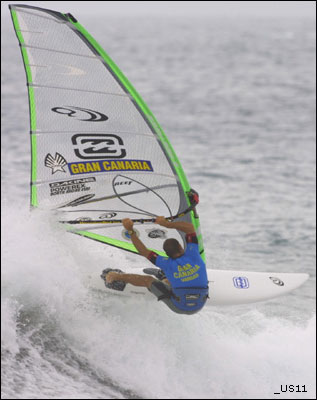 Despite 15-25 knot winds here in Vargas this afternoon the waves failed to materialize and no official competition took place. The race crew stayed on standby until last possible light in hope that the surf would pick up on the dropping tide but unfortunately the conditions did not co-operate. Four days ago the contest fired into spectacular action on the North shore of Gran Canaria in epic side shore conditions. Normally at a PWA event the contest venue remains in one place. Fortunately due to the flexibility of the City Hall of Aguimes in agreement with the tourism board Gran Canaria and the organizers Pozo Compass, we were given the option to move.
According to the PWA rules the sixteen sailors in the men's single elimination who advanced through to the third round all will share equal first place. These are Antoine Albeau (AHD, Neil Pryde), Greg Allaway (Neil Pryde, JP), Josh Angulo, Nik Baker (Mistral, North), Ty Bodycoat (Starboard), Scott Carvill (Naish boards, Naish sails), Bjorn Dunkerbeck (Proof, Neil Pryde), Francisco Goya (Fanatic, Arrows), Xavier Huart (Mistral, North), Vidar Jensen (North), Scott McKercher (Starboard, Naish), Marcos Perez, Jason Polakow (Neil Pryde, JP) Kevin Pritchard (Bic, Gaastra) and Peter Volwater (F2, Arrows).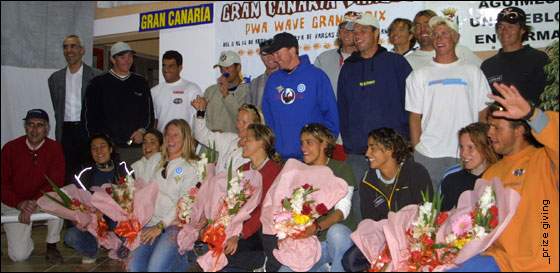 Current overall wave champion Bjorn Dunkerbeck was amongst the favourites to win here in Vargas. His campaign to retain his wave crown will continue here in Gran Canaria at Pozo Izquierdo in July at the next wave event on the PWA tour.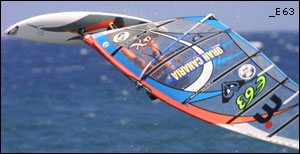 Bjorn Dunkerbeck (Neil Pryde, Proof)
"We sail quite frequently on the north when we have west wind or south west wind. The North has more waves than the east coast. It was a very good decision that we moved and hopefully that could be something we can consider for the future. It was great that we were allowed the flexibility of moving, on an island like this it would be a shame not to use the other shores. At least we secured a result for all the competitors that came here from all over the world to compete. We had some very different conditions to what everybody was expecting and the day we competed was going off!"
The surprise name in amongst the top sixteen here in Vargas is Ty Bodycoat from Lancelin, Western Australia. Ty, who is only eighteen, recently quit his job as a cray fisherman to try his hand on the PWA world wave tour. His talents were spotted by fellow Aussie sailor Scott McKercher and was eventually rewarded a wild card which allowed him to compete here against the best wave sailors in the world.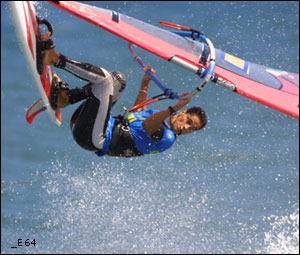 Ty Bodycoat (Starboard)
"I can't believe it. I am first but with fifteen other people so I don't really see it that way. I am not working on a boat any more, this is my dream come true. I am gonna try and keep the money in my bank account for as long as I can. I'll be at the next event…you can count on that!"
Scott McKercher (Starboard, Naish)
"It is just great that he has been given the opportunity to give it a go. He has got the talent to go as far as he wants to take it. I hope he knows what to do with his talent"
Many will remember the epic day of competition on the north of Gran Canaria for its excellent conditions. Most sailors came here expecting a largely jump biased event and the down the line aspect was an unexpected bonus.
Next stop on the PWA world tour is a Freestyle Qualifier in Leucate, France, this is followed by more qualifiers in Austria and then on east coast of America before the first official freestyle event of the tour which will be in Costa Brava, Spain.