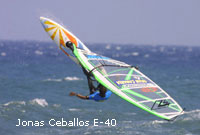 After a promising start to the day here in Vargas the wind and waves failed to reach a consistent enough level to allow any official competition sailing. This morning looked like we were on…head high hollow waves and wind blowing from the northeast. However by the time the breeze had fully kicked in around noon, high tide seemed to dissipate the swell.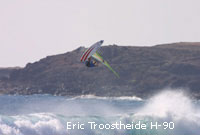 Despite the lack of official competition there was still some hot free sailing going down. Dutch sailor Erik Troostheide (Mistral, North) was amongst the first to hit the water this morning. With a light offshore breeze and a smack-able shore break 'Toasty' was pleasing the crowds and fellow sailors with some sick aerials.
Eric Troostheide (Mistral, North)
"I was lucky this morning. It was beautiful, slightly offshore but light winds. I got a gust and managed to get a huge back loop…jump of the day I hear. It was fun sailing, Vargas is super fun, the waves were super hollow, it was just a shame we didn't get the thing finished"
Ex world champion Kevin Pritchard (Bic, Gaastra) was also ripping toady and making the most of a valuable practice session before his next heat against the Argentinean wave guru Francisco Goya (Fanatic, Arrows).
Kevin Pritchard (Bic, Gaastra)
"I haven't heard any forecasts, I hope we get it tomorrow. It was a long day at the beach and a lot of waiting. It looked very promising, we had surf this morning at low tide and wind this afternoon but we couldn't get the combination. I have Cisco in the next round so that should be a walk in the park for me!"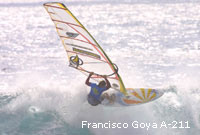 Francisco Goya (Fanatic, Arrows)
"This morning was looking good. It looked like a promising day. It is still not over. Tell Pritchard I like his attitude!"
British number one sailor Nik Baker (Mistral, North) managed to score a couple of nice waves during the afternoon session. He was also keeping a beady eye on his next opponent Kauli Seadi (Naish boards, Naish sails) of Brazil. Both sailors are currently looking very strong contenders here in Vargas and their heat promises to be explosive!
Nik Baker (Mistral, North)
"I hope it happens tomorrow. It has been a bit of a frustrating day today. I looked out the window this morning and the fans were going round. The wind was in the right direction and there were some great waves. I thought within an hour or two we would be on. It has been a bit of a waiting game. We have been on the beach for ten hours today. The forecast is not so good for tomorrow but you never know with this place"
American sailor, Josh Angulo patriotically raised the 'stars and stripes' flag from his pit area this morning. Angulo is fired up to do well here in Vargas and will face Greg Allaway of Australia if conditions co-operate tomorrow.
Josh Angulo
"We are still waiting but hopefully tomorrow will happen. I have two flags flying from my pit area. I have got to represent man! Both my countries America and Cape Verde, I am proud of being a dual citizen! I have Grubby in the next round he is ripping so I will have to do my best"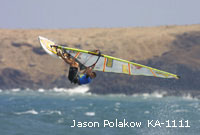 With one day remaining here in Vargas it looks like the competition may go down to the wire. We have already scored with epic down the line action in the North of the island three days ago. If the forecast co-operates a day of ballistic Vargas jumping could make one hell of a finish to the first wave event on this years PWA world tour.