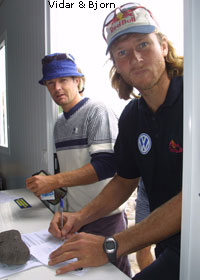 The worlds elite wave sailors from both the men's and women's divisions of the PWA world tour have gathered here in Vargas, Gran Canaria for the first event of the season. Today, the likes of Bjorn Dunkerbeck (Proof, Neil Pryde), Vidar Jensen (North) Kevin Pritchard (Bic, Gaastra) and Jason Polakow (JP, Neil Pryde) amongst many others have been making final preparations so that they are ready for official competition which is due to start tomorrow.
The conditions here in Vargas are currently calm but locals are predicting that the nuclear winds which have given Gran Canaria its reputation as one of the windiest places in the world should be here by the weekend.
Last years event winner, Vidar Jensen who hails from Norway is confident that the wind will return. Vidar, who is rated by many as the best jumper in the world in port tack conditions beat local rival Bjorn Dunkerbeck in the final here in Vargas last year.
Vidar Jensen (North)
" I just checked the latest forecast on the net and it seems like there is a high pressure coming in for the weekend. I have a good feeling right now that it is going to go off! I have been working on my no handed forwards, they are going pretty well. I just started doing them last year and maybe I will throw a few in during the contest"
The end of last season saw a return to winning ways for twice ex wave world champion Jason Polakow. Victories in Sylt and Ireland brought Polakow back in to contention but an injury at the beginning of the season denied him from taking back his overall title. This will be the first time Jason has competed in Vargas and rumour has it that he is hungrier than ever to get back on top.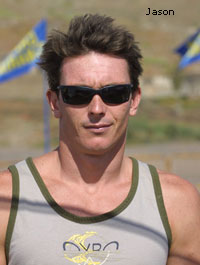 Jason Polakow (JP, Neil Pryde)
"I have been here about a week. We have sailed a couple of days but at the moment the wind is pretty light. I have not heard a forecast but it is sunny today so I suppose that is a pretty good sign. Gran Canaria is always a tough one for me so hopefully I will squeeze into the top twenty and I will be happy. Seriously I hope to do well here but it is tough to beat the likes of Bjorn, Vidar and all the Canary boys. Ill give it a good shot"
Kevin Pritchard last years number two overall in the waves is looking confident this year. Pritchard is missing the overall wave crown from his list of windsurfing titles and waves are at the top of his priority list this season.
Kevin Pritchard (Bic, Gaastra)

"I think the wind will be here by the weekend. I don't like to blow my own trumpet but I am feeling pretty confident right now. I have my favourite to win and it looks like I will be backing myself in this race! That's all I want to say"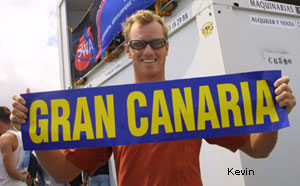 The women's competition is promising to be closer than ever this year. Local twins Iballa and Daiada Moreno (Mistral, North) will no doubt be amongst the contenders for podium positions here in Vargas. Ex-world Champion Karin Jaggi of Switzerland is one of their most feared opponents and also has her sights set on victory.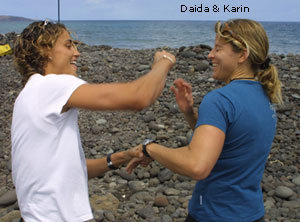 Karin Jaggi (F2, Arrows)
" I am ready for the twins this year…Oh Yeah! I have actually been staying in their apartments in Pozo for the last two weeks so we have been having good fun hanging out. It is a madhouse down there! This is the first event of the year so I better do well. I am fired up this year so tell the twins they better watch out!"
Daida Moreno (North, Mistral)
"I heard Karin said that she was gonna kick my ass…On the dance floor maybe but not out on the water! I don't know who is going to win, I will have to take a look into my crystal ball. At the moment my crystal ball is a bit cloudy! Tell Karin I am going to kick her butt!"
The draw for the first single elimination will be on the notice board first thing tomorrow morning. The heats will be interesting as this event is a chance for the newcomers on the PWA world tour to challenge the 'Big Guns' The stage here in Vargas is all set, the players are ready…Bring on the action!