Hua Hin, 28 March 18.15 local




Again a perfect day for the Thai Airways Asian Pacific Championships 2002.
The wind was on form again with a steady 16-17 knot breeze from the south east (side onshore). Race officer Rudy Steiner laid out a spectacular M course with a gybe mark just outside the surf. It resulted in a very spectacular sight from the beach bar.
Wojtek Brzozowski (Pol 10) has every reason to be relaxed with straight victories. He displayed his laid back attitude by, sitting at the beach bar, announcing over the PA system that the next start for the FW fleet would be in 3! Minutes. He made it to the start on time.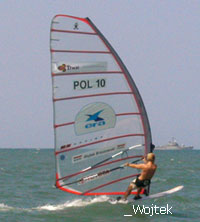 In the Ladies fleet, Dorota Staszewska, increased her lead with three more victories.
For the first time during the event, we have a protest between two competitors. Rear Admiral Prasart Sribhadung of Thailand had an easy job with a simple Port-Starboard collision resulting in the DSQ of Jap 20 in race 8.