Hua Hin 27 March 2002
Polish Still in Front
Perfect winds again today. The wind usually starts blowing around 11.00 am gradually picking up strength. Today the first start of the Formula Windsurfing fleet was at 13.48.
Race officer Rudolf Steiner decreased the size of the course from the 20 minutes for the first arriving yesterday to a 12 minute race for today. The first race was sailed in a steady 11-12 knot breeze in blazing sunshine and very high temperatures. This race was directly followed by a second race. Then the Formula sailors were sent ashore for a lunch on the beach while the Thai Mistral youth fleet had their two races. The last Formula race was finally started in 16-17 knots.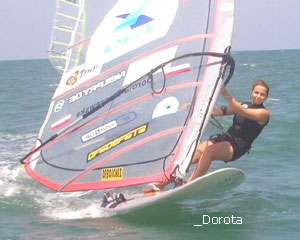 The Polish competitors, Wojtek Brzozowski and Dorota Staszewska, both in the men's fleet and women's fleet dominated racing again with straight victories. The battle for second place in the men's fleet is between Gonzola Costa Hoevel (Argentina) and Alexander Grynis (Poland). In the ladies fleet Yoshie Ishinoda is strongly in second place with second places in all three races of today.
Sailing on these beautiful warm waters of Thailand is not entirely paradise. Last night, after racing, Gonzalo stepped on a stone fish. It did not take that too kindly and injected the sailor with poison. Within 20 minutes, the burning pain had worked its way up from the foot to the upper side of the leg leaving the rest of the leg completely numb. By then, a doctor fortunately injected the antidote saving the parts that are important to every man. As seen from the results of today, Gonzalo is fine again.