The Thai Airways Formula Windsurfing Asian Pacific Championships 2002 are under way. After a splendid opening party with delicious food at the Sofitel Hotel in Hua Hin last night, racing started today. 8 countries are represented in the Formula Fleet with a large represenation from Poland including 2000 World Champion Wojtek Brzozowski and reigning champion Dorota Staszewska.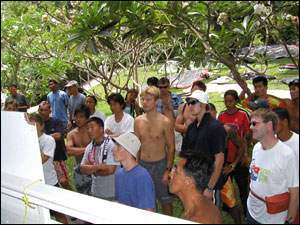 The previous days produced perfect winds from the South increasing from 15 knots around noon to 22 knots later in the day. Today however, the wind shifted to Northerly directions, after a thunderstorm last night, at a mere 6-7 knots. Unfortunately not enough for the Formula Windsurfing fleet and the formula competitors used the time to trim material (a lot of it brand new directly from Starboard) and get some light wind training done.
Simultaniously, a Thai youth event on the Olympic One design is taking place. These sailors were called out at 14.00 h. for some races. Full results will be posted on: http://www.windsurfingthailand.com" as soon as available.
The first start tomorrow is scheduled for 10.00. Hopefully, the wind gods will cooperate
Theo Don

FWCC Member

24.03.2002 16:00 local time