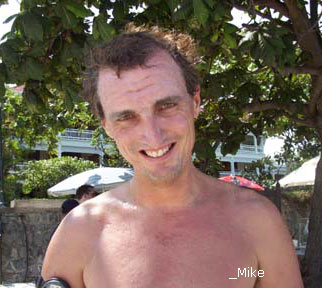 During the Asian Pacific Championships, a new name suddenly appeared in the top of the fleet. Mike Nelson from Wollongong (near Sidney) Australia. (1973)

Mike is the running Australian Champion, sponsored by Neil Pryde and Drops. He has 10 years experience as a competitor, mainly on raceboard and recently switched via F42 to FW
Mike is what you call a weekend sailor combining his windsurfing with his full time job. As he put it, I am lucky if I can get two days of sailing in every week.
Mike participated in the Worlds in Pattaya, not doing very well, and then went to do the Asian Windsurfing tour (PWA type racing) where he finished second overall for the season. He prefers the more relaxed sailing in the Asian Windsurfing tour.
On his home waters in Australia, Formula is not yet very strong. There is a core of about 15 sailors doing the national tour and another 15 showing up on in one or two events. Most sailors being between 25 and 30 years old. Cost is certainly a factor here.
For this season, Mike will be going to the ISAF Games in Marseille which will be his main event of the season. Of course he will continue to do the national tour as well.