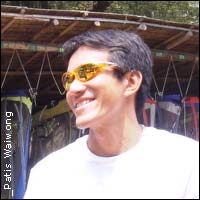 The Asian Formula Continentals
The Thai Windsurfing Association and Eastern Windsurfing Club have done it again, and everything is set for another great event in Thailand. The dedication and hard work of Patis Waiwong and Thanit Raksanaves has produced a record of four major Windsurfing events in Thailand within the narrow time frame of two years. The 2000 Formula Worlds and the 2001 IMCO Junior Worlds are already history, and will be remembered as extremely successful and well-prearranged events. The 2002 Asian Formula Continentals is well funded, and Hua Hin has been chosen as the venue this time. It is a beautiful town on the east coast of the Siam Gulf, with consistent thermal winds at this time of the year.
More than fifty competitors from 12 countries are expected to take part, and the Championship is also a qualifier for the Worlds. Most Asian countries will be well represented in addition to top sailors from Australia, New Zealand, Poland, Russia and USA.
Among the favorites we find both the 2001 World Champions Kevin Pritchard (USA) and Dorota Staszewska (Pol) as well as Wojtek Brzozowski, (Pol) Steve Allen, (Aus) Robbie Radis (Aus) and Alexander Grynis (Pol).
Formula Windsurfing is getting established in Asia.
Formula Windsurfing is rapidly growing in Asia, and the skill level of the sailors has increased dramatically for the two past two seasons.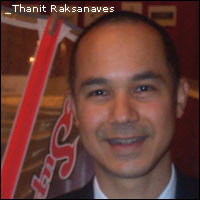 Japan, Malaysia, Singapore, and Thailand are running National Formula ranking series, and the Class is on the move in Hong Kong, Korea, China, Taiwan, Philippines and Indonesia.

An important issue in the near future will be the acceptance of Formula Windsurfing in the prestigious Asian Games and South East Asian Games. It will most likely be replacing the aging Race board Class, as the second windsurfing Class besides IMCO. The Asian Windsurfing Tour is well established and still growing in popularity. Formula Windsurfing was implemented at several events this year, and if fully adapted for the next season, it will certainly help boosting the Formula format even further in the region.

More Inter Asian events are being scheduled, and Malaysia have approached IWA as a potential host for the 2003 Asian Formula Continentals, signaling prize money in the area of Euro 35 to 50.000.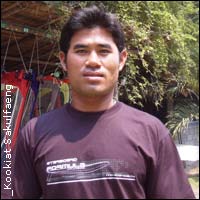 Watch out for Kookiat.
Kookiat Sakulfaeng from Thailand has already proven his ability as a top Asian competitor by winning the Singapore Open, and placing second in the annual Tudor Cup a few months ago, only beaten by Matt Pritchard, USA. Kookiat is in great form at present, and it will be interesting to watch him in his home waters. The Japanese sailors are also expected to be strong contenders for the official Asian title. After a rather vague performance in the 2000 Formula Worlds, the Japanese has fine-tuned their equipment as well as their skills. We are looking forward to a great Championship in sunny Thailand from the 23rd. to 30th. of March.
Tor Bakke